South Louisiana Community College
How a College Modernized Surveillance Across 11 Campuses with a Hybrid Cloud Security System
Brad Breaux, Chief Information Officer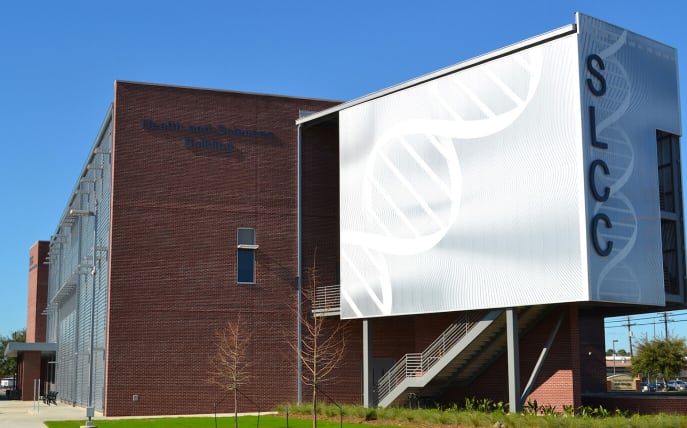 [South Louisiana Community College](https://www.solacc.edu/) (SLCC) provides training to 6,000 students across eight parishes in and around Lafayette, Louisiana. Their mission is to engage and support students on educational pathways leading to successful transfer and meaningful employment.
As their Chief Information Officer (CIO), Brad Breaux is responsible for operations throughout the college's 11-campus footprint. He oversees information technology (IT), academic programmes, admissions, and financial aid to ensure that technological needs are met. When he came on board, he inherited a 400-camera security system made up of disparate digital video recorders (DVRs), internet protocol (IP) cameras, and large PCs stored in closets and data server rooms—all sourced from different vendors.
Challenge: Inefficient Footage Retrieval Process
"We spent a lot of time traveling to each DVR location to retrieve the footage whenever something would happen."
Incident resolution was a time-consuming and manual process with their old DVR systems. Some of the servers were 15 years old, resulting in low video quality and cameras frequently going offline. To help navigate the antiquated systems, Breaux's IT team had to be physically present to assist campus security with footage retrieval. In order to do so, both security and IT team members had to drive across campuses to the camera locations. With only nine IT staff members covering 11 campuses, having them travel to each location was unscalable and a drain on their time and energy. Between the travel time and unreliable camera quality, incidents couldn't be addressed with the immediacy that Breaux needed.
Solution: Remote Accessibility For Immediate Incident Resolution
"Within the first few weeks of implementing Verkada, an incident occurred on campus. In a matter of minutes, campus security was able to pinpoint the footage they needed to act immediately and resolve the situation."
With the ability to remotely access footage on any device, campus security is always equipped with the tools necessary to respond to incidents from wherever they are. By utilizing advanced search filters, the team can effectively respond to situations before they transpire and ensure the continued safety of students and teachers. Additionally, the convenience of being able to view and share live feeds from a centralized software platform allows faculty to gain meaningful visibility into activities that occur across all campus locations.
Challenge: Limited User Access
"We didn't want to risk giving access to users if we weren't able to properly manage permissions—as a result, access to limited to a small team."
Because of the varying setup of video security equipment across campus, it was difficult to manage and grant users access to cameras. "With different systems in place and a growing number of faculty, keeping track of IPs and passwords was impossible to manage. There was no way to standardize training or stay on top of user management with the old systems," Breaux recalls.
Solution: Standardized Management & User Permissions
"Not only is Verkada's platform incredibly easy to use, it allows me to manage user permissions from a single account. As a result, the entire team now has access to an incredibly powerful tool."
By bringing all cameras into one platform, Breaux has simplified management for both himself and other faculty members. The ability to customize user permissions to specific cameras or sites, along with the added layer of protection brought by secure single sign-on (SSO) and SAML authentication, ensures that only authorized users have access to the video security system. Breaux and his team are no longer required to deal with managing multiple accounts and logins.
Additionally, standardizing surveillance across sites makes it effortless for the team to get up to speed with the solution. When new security officers and campus administrators join, they're sent an email to set up an account on Verkada's software platform. After logging in, they immediately have access to the cameras that have been pre-approved by Breaux. "[Campus security and administrators] are more independent. And for me, it's been great to be able to manage everything at a higher level."
Challenge: Limited Headcount for Active Monitoring
"With our old systems, we always had to have someone sitting down in front of the screen of a physical machine."
To keep an eye on happenings around campus, someone from Breaux's IT team needed to be physically present in front of a monitor 24/7. With a small team of nine serving a large community of 11 campuses, having someone constantly sitting at a screen was a drain on IT resources. It was neither productive nor a good use of the team's time when nothing was going on, but to stay vigilant, they had no choice but to actively monitor at all times.
Solution: Motion Notifications Alert Team of Only Important Events
"We no longer need to monitor the camera system anymore. Verkada sends me a text or email when something important happens. That's it."
Breaux now gets Motion Notifications sent to him, which trigger when unusual activity is detected. In the event of cameras going offline or movement being detected around data centres, Breaux immediately receives an SMS text or email. Campus administrators and security also have their own custom alerts set up independent of Breaux for the buildings they manage. Since switching to Verkada, active round-the-clock monitoring is no longer necessary and IT personnel can dedicate their time to more productive tasks.
Takeaways
Breaux has successfully replaced 275 legacy cameras with Verkada, with the final deployment expected to finish within the next two months. With Verkada, he's unified the security systems across 11 campuses under a single solution. In doing so, Breaux has significantly improved incident response time and streamlined productivity amongst teams.
If you'd like to learn more about how Verkada's hybrid surveillance solution can improve student and faculty safety across campuses, request a free trial camera today.