Yuma Union School District
Yuma Union School District
Dean Farar, Chief Information Officer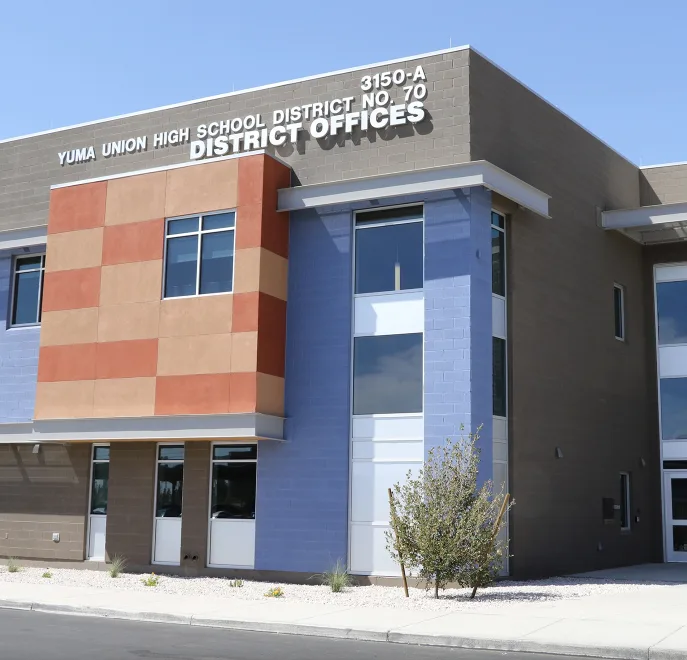 6

District Sites

900

Cameras

5

Months to Deploy
"Verkada looked at an old problem in a new way. It's revolutionary in that it provides exactly what you need and helps you achieve exactly what you're trying to do – all in a way that's easy and cost-effective."
Background
Yuma Union High School District, located in the historic city of Yuma, Arizona, serves five high schools, one alternative site, and more than 11,000 students. In mid-2017, local residents voted to issue a bond, which would finance the creation of several new facilities in Yuma including a new district office that would house all video surveillance operations.
The migration of the old video surveillance systems into the new office was not only filled with attrition and disorganization, but also revealed some fundamental frustrations with installation, usability, and reliability. The further the IT team advanced towards moving the system, the more they understood the necessity of upgrading their system to a more modern and functional solution. Aided by district administration making reliable video surveillance  a priority one issue for school safety, the IT team went to work.
Challenges
The existing CCTV system in the Yuma Union High School District involved many moving parts, was tedious to maintain, and required frequent equipment replacements because of scorching Arizona temperatures – often reaching highs of 110 °F (43.33 °C). The manual nature of performing routine checks or troubleshooting errors across all 6 sites also proved to be time consuming and unsustainable.
When Dean Farar, CIO of the Yuma Educational Technology Consortium, discovered Verkada, he reached out hoping to resolve three primary challenges his team faced with their NVR-backed video security system:
Challenge 1: Lack of Confidence in the Infrastructure
"We needed to find a better way to do video surveillance – I wanted to know that if one DVR/NVR failed, it wouldn't collapse all the cameras connected to it… and lose footage to an entire wing of a building."
From an IT standpoint, Dean and his team were concerned with the reliability of the NVR/DVRs and the cameras connected to it. With 16 ports on each NVR, the worry of losing footage to all cameras became increasingly problematic with the frequent overheating of the NVRs.
Challenge 2: High Cost of Maintenance
"Our NVRs were breaking so rapidly that it didn't make sense to continue dumping money into the problem."
The NVRs, which were stored in protective shells behind tight IT closets, frequently overheated, resulting in malfunctions and costly necessary replacements. It was clear to Dean that the setup of the old system architecture was not only wasting dollars, but also wasting time to fix.
Challenge 3: Difficult Deployment Process
", we'd have to first check whether or not ports were available on the DVR/NVR, consider what other major infrastructure projects we'd have to put into place, figure out who would own the installations. The model was incredibly unsustainable."
Dean faced many technical and logistical restrictions that limited his ability to quickly deploy cameras in hot-button areas. Working with school administrators to roll out new cameras became a tedious initiative because of all the components involved in the old system architecture.
Why Verkada?
Dean and his team reviewed over 10 vendors that offered iterations of the same solution, with NVRs/DVRs as a common denominator. None of them were able to address the maintenance and scalability concerns that he experienced with his existing system.
When the team discovered Verkada's hybrid-cloud solution, they were intrigued with the software stack that supported the all-in-one camera and thought it might be a feasible solution for the problems they were experiencing.
"Each camera is essentially its own NVR – losing one camera won't impact losing footage to an entire wing of a building."
Shortly after getting in touch with Verkada and requesting a free trial, Yuma received and installed several pilot cameras across their campuses. Dean and his team noticed three things during this trial period, which propelled his district's eventual rollout to 900 cameras across all campuses:
Ease of Installation and Deployment
"Verkada cameras are as close to plug-and-play as you can get. We already had all the infrastructure required to set up the cameras, making Verkada's solution extremely realistic for my team."
Verkada cameras are seamlessly installed with a single power over ethernet cable, eliminating the need to invest in additional infrastructural investments like NVRs and DVRs. Due to the simplicity of the setup, the team was able to deploy cameras in places where there wasn't coverage before, increasing the overall visibility of their campuses. In a matter of months, nearly 900 cameras have been successfully deployed across the 6 campuses in the Yuma District.
Ability to Find, Archive and Share Footage Quickly
"With Verkada, we can control internal access to footage and provide archived clips with outside entities – like the police or fire department – when necessary. The ability to see what is going on in the system without my team having to create some technical magic to make that happen is a huge win."
In a recent incident, campus administrators noticed that taxi drivers were loitering on-campus parking lots while waiting to pick up students after school. Soon after, the footage was shared with the police department, resulting in the ban of taxis on school grounds. Because of the ability to quickly find clips and share footage, administrators and teachers were able to proactively ensure the safety of all students while on campus.
Intuitive Features that Save Time and Effort
"The time-lapse functionality allows us to scroll through scenes quickly, rather than having to sit and play the entire video and wait for a particular incident."
Command, Verkada's easy-to-use software, allows Dean and his team to conveniently locate footage by searching for clips by date and time. In addition to the search-based process of locating footage, the time-lapse functionality allows clips to be scrolled over quickly, giving the Yuma team the ability to respond to real-life situations sooner.
What's Next?
Installing the Verkada security system has opened the doors for Yuma to explore a wide variety of strategic initiatives. Dean's primary goal in the next school year is to give each campus the autonomy to meet each of their respective security needs. By putting the power of video monitoring in the hands of the administrators and the teachers, Dean and his team can focus more of their efforts on control from a district standpoint.