PowerStack
How PowerStack Partners with Verkada to Build Sustainable Global Security Solutions with Vertical Solar
with Nathan Giblett, Co-founder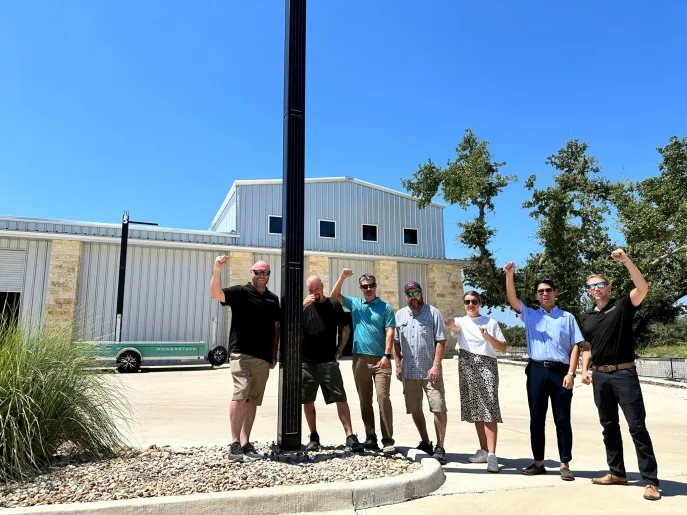 When Nathan Giblett, the co-founder of PowerStack, envisioned the future of remote power generation, he saw an opportunity to blend modern technology and sustainability. Today, his company has manufactured a cost-effective, sustainable way to power safety: the PowerStack modular solar pole.
"We weren't just aiming to build another solar power system. We wanted to re-imagine the way organizations access remote power and integrate smart technologies. That's the PowerStack promise."
With Verkada's enterprise-grade security solutions and PowerStack's vertical solar systems, a new dawn of sustainable infrastructure is emerging. Together, they are shaping a future where cutting-edge security solutions can be deployed in any corner of the world, irrespective of grid power availability.
Challenges Faced: Traditional security systems require consistent power sources, which can often be a limitation in remote areas or regions with frequent power outages.
PowerStack and Verkada's Solution: Powerstack provides a smart, modular solar power solution that can support a variety of applications from cameras, wireless sensors, talk-down speakers, and more. Verkada's plug-and-play cameras and security devices can be installed in minutes, while eliminating the need for traditional NVR/DVR infrastructure.
"Verkada's cloud-based security systems are well-designed to support our core needs, including low power and ease of installation. By integrating Verkada's solutions with PowerStack, we offer a complete package: off-grid power supply coupled with scalable security."
Verkada's cameras, equipped with cloud backup and long battery life, ensure uninterrupted security coverage. Even in harsh weather conditions, the system's cloud-based backup and the solar pole's 5-day battery backup ensure that monitoring remains unaffected.
Sustainability and Social-Impact Initiatives That Drive Value
Both Verkada and PowerStack champion green initiatives. PowerStack's solar poles reduce grid power consumption and save tonnes of CO2 emissions annually. The company also promotes sustainability by employing local families and manufacturing locally, while Verkada has committed to bringing safety to underserved communities through dedicated ESG initiatives through Verkada Gives.
Looking ahead, Nathan is optimistic about the duo's potential to reshape remote infrastructure projects. "Our collaboration isn't just about offering a sustainable solution. It's about reducing costs, ensuring rapid deployment, and making security solutions accessible even in the most remote, off-grid areas."
"We're enabling projects that might never have seen the light of day due to logistical or financial constraints."
The Economics of Speed: How Quicker Deployments Reduce Costs
Time directly correlates with cost. PowerStack understands this and has pioneered a system that significantly reduces deployment time, and as a result, drives down project expenses. PowerStack poles can be set up in under an hour – including foundations, electronics, and securing the pole into position – with the current record standing at a swift 28 minutes. This unparalleled speed directly translates to tangible cost savings. By spending less time on the setup, projects move forward faster, reducing labor costs and ensuring that security is operational sooner.
Additionally, PowerStack's method doesn't stop at the poles. Their concrete-free foundation installation not only exemplifies a low-carbon approach, but also negates the need for resource-intensive excavation. Requiring just a two-person team, the installation process is streamlined and free from cumbersome machinery, once again translating to reduced costs.
Complementing PowerStack's efficient system is Verkada's zero-configuration setup and  Command software platform. Whether overseeing one or thousands of Verkada devices, Command enables seamless installations and management. Cameras come online in minutes by scanning a simple QR code, while the intuitively designed Command facilitates swift setup of new devices, comprehensive site management, and user settings. Moreover, users gain instant access to both live and archived footage, along with features like motion search, Person or Vehicle of Interest alerts.
Bringing Actionable Insights to Uncharted Territory
The beauty of this collaboration lies in the newfound opportunities. Previously unreachable or off-grid areas are now accessible. "We've expanded the realm of possibilities, providing solar-powered video security in places we never thought possible," Giblett said.
Verkada's edge-based AI-powered analytics further elevates this capability. Using People Analytics, the system can intelligently discern real threats, ensuring the security is not just broad but deeply effective. With opportunities with the BZ11 Horn Speaker integration, professional monitoring agents or customers can talk down to intruders from nearly anywhere – making on-the-spot remote communication a reality.
Designed with superior vandal resistance, PowerStack's solar poles are resilient in challenging terrains, whether industrial, urban, or remote. This durability, paired with Verkada's ever-evolving product line, ensures an unyielding commitment to safety and sustainability.
Looking Ahead: Bringing Builders Together
While many green narratives primarily focus on cost or environmental benefits, Nathan sees beyond. "It's not just about being green; it's about functional green innovation. It's about making impactful change while achieving project feasibility."
"Like us, Verkada manufactures and builds its own solutions. New products are always being released, and we eagerly anticipate aligning these with PowerStack's infrastructure." 
The collaboration symbolizes not just a merging of technologies but also a common vision for reliable and innovative security solutions. In a partnership set on continuous evolution, PowerStack is redefining the boundaries of what's possible in sustainable security solutions.
---
To learn more about PowerStack's global solutions, visit: https://powerstack.energy/